Top Finishers of the 2013 Alyeska Chugach Open will receive
heli-skiing with h20 guides in valdez
March 19, 2013 (Girdwood, Alaska) – The Alyeska Chugach Open includes two days of competition, open to Alpine, snowboard and Telemark athletes. The high-level competition showcases Alyeska Resort's challenging double black diamond terrain. The terrain offers such features as steep cliffs, chutes and 2,500 feet of vertical with the ability to test the mettle of the most experienced freeriders. The 2013 Alyeska Chugach Open event is scheduled for March 28 to 31, 2013.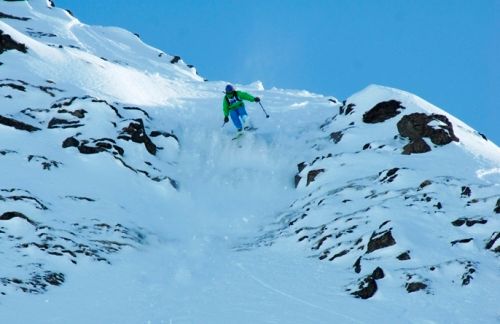 For this year's competition Alyeska Resort has partnered with Valdez heli-ski operator Dean Cummings' H20 Guides. The top placing men and women ski, snowboard and telemark finishers in the 2013 Alyeska Chugach Open will receive daily package for six runs.
"Our goal is to create a free spirit, welcoming all disciplines, at the Chugach Open," says Di Hiibner, ski area general manager. "Our plan is to open up in-bounds terrain that is indicative of the big heli lines in the Chugach Mountains. Alyeska has many fantastic big mountain faces perfect for top athletes to test their sheer will, creativity and talent."
Currently under consideration as possible venues are the Headwall to Fast Boy and the Wedge for the first run, and the Shadows area to Jim's Rock for the final run. Venue selection is based on current weather and avalanche conditions and may be moved if necessary.
Registration and additional information for the Chugach Open is available online at www.alyeskaresort.com. Athletes must be 19 years of age and of advanced or better ability to compete in the open division. There will also be a juniors division for those between 12 and 18 years of age for all disciplines. There are three levels of registration: $110 includes entry to competition only, $230 includes entry plus three day lift tickets, and $310 includes entry plus five day lift tickets. All participants will be required to wear a helmet and beacon during the competition.
About Alyeska Resort (www.alyeskaresort.com)

Alyeska Resort is

Alaska's premier year-round destination featuring The Hotel Alyeska, an award-winning 304 room full-service property. Located just 40 miles from

Anchorage, Alyeska Resort is your base camp for summer and winter excursions. Alyeska Resort stands out during ski season with 650" of average snowfall annually and the longest-continuous double black diamond ski run in

North America. Learn more about the resort at

www.alyeskaresort.com

or 800.880.3880.


ALYESKA RESORT MEDIA CONTACT:
AMY QUESENBERRY, AMY@ALYESKARESORT.COM, 907-754-2592