LOCAL FAMILY WINS NATIONAL CONTEST
OWNER OF KALEIDOSCAPE PLAY STUDIO AND FAMILY RECOGNIZED FOR PERPETUATING THE ART OF PLAY


ANCHORAGE
– (June 13, 2014) Local business owner Jennifer Stratton and her family have been named one of America's Most Playful Families by KaBOOM, a non-profit organization devoted to children and the importance of play.
The contest was created to document families at play by having contestants submit photos and stories. Jennifer Stratton of Kaleidoscape Play Studio knows the importance of play. She has dedicated her life to children and their growth through playing. Kaleidoscape's environment reflects this as her and her family strive to create an atmosphere full of creation, art, and, of course, play. Each family member contributes to the studio's environment by giving opinions and stamps of approval on the "edu-tainment" elements of each element brought to the table for Kaleidoscape.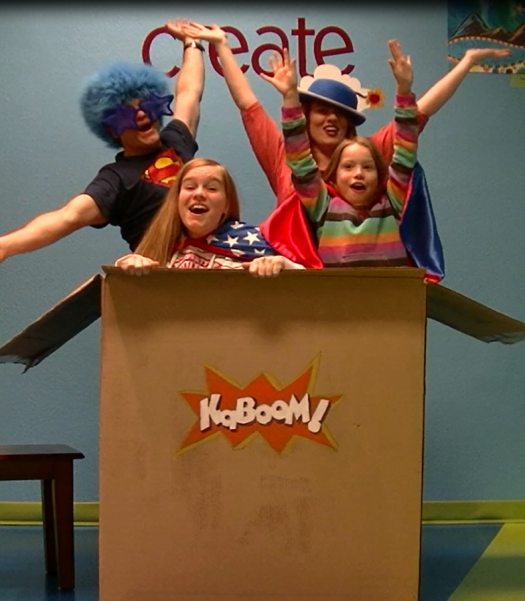 This fun focused family was noticed by KaBOOM after the Stratton family was given a camera to submit a video for the online contest, being one of fifty contestants chosen after the initial round of the competition. A panel of judges reviewed each of the videos and proclaimed the Strattons as a second place contender in the contest. The promotional film documents the Stratton's outright compassion for not only each other, but for the sense that play does matter. This is clearly recognized by the constant smiling, laughing, and entertaining interaction of each member of the clan.
The opening of the 85 second video introduces their suggestions for modest forms of amusement. "So you want to be more playful? It doesn't mean you have to spend a lot of money. You just need to think outside the box. Or, get in one!", followed by the family jumping out of a cardboard box. The Strattons continue to charm viewers with images such as swinging together and playing "double this, double that" against a beautiful Alaskan backdrop.
These well-deserving folks won a Rigamajig set, which is a large-scale building kit of wooden planks, ropes, pulleys, hooks, and pails designed for deeply engaging, open-ended play, further allowing the creativity to flow for Kaleidoscape Play Studio's attendees.
Kaleidoscape Play Studio is where random art and play collide, for play should and is timeless Kaleidoscape has a playscape for all ages. For more information about Kaleidoscape Play Studio you can visit them online at
http://www.kplaystudio.com
.